Space Needle: Make the Most of Your Visit
What is more iconic in Seattle, Washington than the Seattle Space Needle? Besides coffee, The Space Needle is one of the first things that comes to mind when I think of Seattle. The Space Needle has so much more to offer than just a ride to the top of the tower. Read on to learn all about our experience at the Space Needle and what you can expect during your visit.
This post contains affiliate links, including Amazon Affiliate links. A SoCal Way of Life earns a commission on all qualifying purchases made through these links.
Get a Seattle City Pass!
We purchased Seattle City Passes for all for of us because we wanted to visit all of the major spots in Seattle. We saved money on our tickets and noted no difference in what we got to experience with these discounted passes.
All locations had City Pass kiosks set up at the front. We just walked straight up to the Kiosk, scanned the pass from our phone, and picked the time we wanted to tour the Space Needle experience. The kiosk then produces paper tickets for your entry and other experiences/photos available when you enter.
You can purchase a Seattle City Pass by visiting my affiliate link HERE.
The Seattle City Pass allows you to save on admission to 5 Top Seattle attractions. The City Pass includes admission to the following:
The Space Needle
Seattle Aquarium
Argosy Cruises Harbor Tour
Museum of Pop Culture (MoPOP) OR Woodland Park Zoo
Chihuly Garden and Glass OR Pacific Science Center
We personally went to The Space Needle, Argosy Harbor Tour, the MoPOP, and Chihuly Garden and Glass. We wound up not heading out to the Aquarium. However, we still saved with our City Pass and were happy with our purchase 😉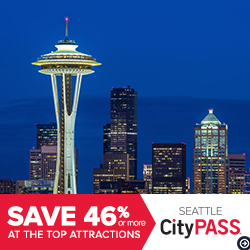 Go in the morning
We went to the Space Needle around 10 a.m. and were able to go right in. However, we saw some pretty big crowds waiting to go in as the day went on.
Pick the best Elevator spot
Try to get to the edges of the elevator along the windows. Standing near the doors will allow you to see the beautiful view as you take the ride both up and down the Space Needle.
Try to avoid the back of the elevator if you can. People will push you against the wall, and with their backpacks no less, as the Space Needle staff squeeze as any people as possible into the elevator. I speak from my kid's experience 😉
Take the staircase down to the glass floor level!
I thought that this staircase would lead down to a restaurant and therefore almost didn't go down. That would have been a big mistake!
The glass floor level is enclosed (i.e.- no air or breeze), HOWEVER…there is an amazing glass floor. Now, for those of you scared of heights (like me), there is a carpet section, so don't worry too much 😉
You can walk on the glass floor and see everything below. If that is not frightening enough, you will also find that the glass floor slowly spins 😀 Yeah…let that settle for a minute.
I was beyond scared to try it, but was so glad that I mustered up the courage to do it. It was a once in a lifetime experience and I didn't want to tell my grandchildren one day that I missed the opportunity because I chickened out.
Another reason you should visit this level? You can see the Space Needle employee using a machine to clean the floors…constantly. It is pretty fun to watch, and explains how the glass floor is so clean.
Check out the Seattle highlights on our Instagram page to see some video! You can find us under the handle asocalwayoflife
Hold on to your tickets even after you enter!
Did you know that your ticket purchase includes so much more than your visit to the top of the Space Needle? Hang on to those tickets even after you pass the entry gate and take full advantage of all that they have to offer! Extras include FREE pictures, a Virtual Reality Experience, and same day re-entry to the Space Needle at night!
Get your free pictures!
You get both a professional picture taken while waiting in line to get on the elevator, and another two pictures taken by an auto camera while up at the top of the Space Needle deck!
All you have to do is download the Space Needle App! Enter your ticket information, and you will have access to all pictures taken for up to 24 hours after your visit. You can download your pictures to your phone for free.
Photo Op #1: Professional Photograph
Your professional photograph opportunity will be while waiting in line to hop on the elevator. Don't worry, you won't miss it 😉
This picture is awesome for so many reasons:
It's free!
It's professional quality!
It has multiple backgrounds when you download it.
Photo Op #2: Automated Camera on the Space Deck
There are two picture spots available on the top of the Space Needle deck. You can find them by looking for a mat with foot print marks on it.
There is a kiosk directly across from the mat. You will scan one of your tickets, then stand on the mat. The screen hanging from the ceiling will count down before it takes your picture! The Space Needle is a 360 degree view of Seattle. There is a photo opportunity at both mid points of the Space Needle deck. Be sure to take advantage of this! Your pictures will be available on the app for download for 24 hours.
Virtual Reality Experience (Free!)
Head over to the gift shop area after you're done checking out the top of the needle. This experience is fun for the kids and is included with admission. Just scan your tickets at the machine next to the virtual reality tubes and you're names will be called when it's your turn! You will even get a video of your experience after. How cool is that?
NOTE: Download everything from the app within 24 hours! Your pictures and virtual reality experiences will only be available on the app for you to download for 24 hours after your visit.
Visit again at night!
You can use your tickets on the same day to re-enter the Space Needle at night!
The experience is completely different at night, and so worth returning!
Get Clear, Crisp Pictures
Get nice, clean pictures by taking your picture through the cracks of the glass. DO NOT stick your phone through the crack! Simply place the camera hole of your phone through the open space. You will not have fingerprints or spots on your picture of the city view!
Looking for more travel inspiration?
Check out these other travel posts on the blog:
The Spheres: A Seattle Must see!
Epic Road Trip Itinerary: Los Angeles to San Francisco
San Diego Zoo Safari Park: Visitor Tips
Solvang Danish Village: Is It Worth It?
Palm Springs Aerial Tramway: Visitor Tips!
Los Angeles to Las Vegas: 5 Fun Road Trip Stops
Celebrate a birthday in Vegas WITH KIDS!